5 Websites for Software Architects That You Need to Know About
5 Websites for Software Architects That You Need to Know About Now
Discover where software architects go to stay on top of the latest news and tech updates
Great software architects are designers and diplomats. Known for creating innovative and valuable programs, they are also responsible for translating highly technical plans into a vision the C-suite can understand. Architects are a crucial link between a company's tech unit and management. They have a unique vision for how their programs will operate, and that requires knowledge on latest tech in their industry.
Whether you're interested in adding fresh sources of industry information to your own reading list, taking a peek inside the more technical aspects of software development, or are interested in building a career in software architecture, you're sure to find something to engaging in this list of five popular news websites software architects use for information about their industry we've compiled.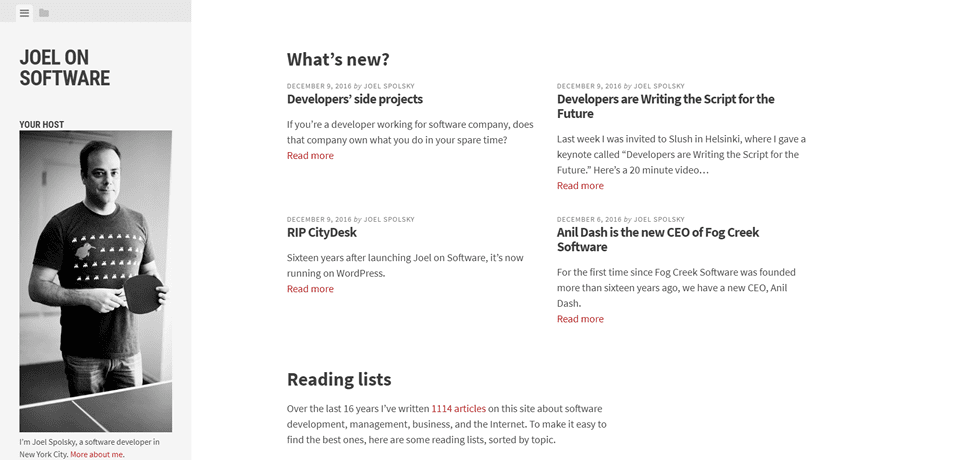 If you want to be the best, why not learn from one of the industry leaders. This blog was started by Joel Spolsky in 2000, and it has been gaining popularity ever since. Joel is the CEO and founder of Stack Overflow, a network of Q&A sites where software developers can share their knowledge about the industry. What's unique about this site is it is all published by Joel himself. He has written over 1,000 articles on industry topics, and he hopes architects, developers, and analysts alike can gain a new perspective from his pieces.

Need a place to go for everything IT? Look no further, ZDNet brings together a wide range of IT news and coverage on almost every subject. This site looks at the trends, technology, and opportunities in the IT field. Architects love using this site to stay up to date on program trends and management techniques.

Developed by coding professionals, for coding professionals. Code Project is a place that provides developers and architects a place to meet and exchange ideas. Users can find resources, articles, and quick Q&A forum centered on programming. Their large community continually updates the site so that visitors can stay up to date on the latest technology making waves in the industry.

Their name sums up what this website is all about. InfoWorld from IDG, a tech media company, gathers a mass of IT related blogs, articles, white papers, newsletters, and scholarly articles. They have an entire section dedicated to enterprise architecture, so this site is perfect for the hardworking architect to brush up on the latest trends in the industry.

Check out this blog run by one of the best in the industry. Federico is a professional mobile and web developer, and regularly blogs around coding (particularly PHP), software architecture and agile development. With a mixture of straight-to-the-point tutorials and, courtesy of his Twitter, a ton of tech news and insight, Frederico's blog is a great resource for architects to immerse themselves in relevant industry content.
Software architects are leaders in the world of software development. The endless pursuit of knowledge is essential to the craft. We believe this list of news/media sources provides excellent insights into the technical aspects of the industry. Whether it's discovering the newest tech, learning strategy from fellow programming professionals, or following trends within the industry, these five sites can benefit software architects.
If you enjoyed this article, feel free to share it with your colleagues, connections, and friends!
Keep Learning!
Books are another great learning resource that you can take with you virtually anywhere! Check out these articles with lists of books that will also help ramp up your technology skills and literacy: